Map of the Wizard/Lich Lair: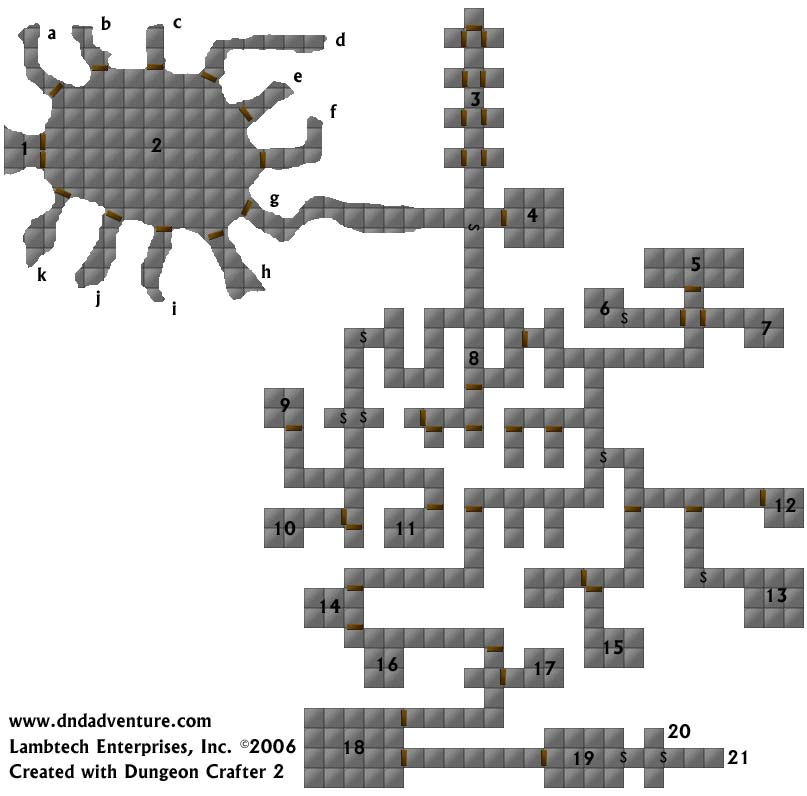 Download the Wizard/Lich Lair ZIP 48Kb (map & desc)
Download Map only
1) Entrance
The cave entrance comes to an end at a huge set of double iron doors that stand 10 feet tall. On the door, there are symbols for evil, protection, and for intruders to keep out. A lock on the great set of doors appears obviously broken.
Notes:
Monsters:
Traps:
Treasures:
2) Mosaic Room
The huge double doors open to a large excavated cave. 11 wooden 8 foot doors line the cave sides, each with a carved symbol: (a) lion, (b) water, (c) tree, (d) skull, (e) candle, (f) staff, (g) shield, (h) deer, (i) fire, (j) wizard, (k) ancient rune. The floor is covered by a multi-colored mosaic swirl design. Arms of the mosaic swirl lead to each door within the cave.
Notes:
Monsters:
Traps:
Treasures:
…